Adamicu Electronics Technology Co., Ltd.
Adam Electronic Technology Co.,Ltd started in 2004 which is located in Changan of Dongguan city . Combined the staffs are of rich experiences in electronics industry which occupies more than 7000 square meters.With more than 10 years of experience, ADAMICU has professional technical ability in the connector field . ADAMICU produces in China using high-tech technologies and reliable production processes for the application fields: Industrial and electrical,Communication,Medical,Automotive,Transportation,Military and acrospace,Medical,Customized.
ADAMICU main products are a variety of cables to solve the problem of science and technology.Adam has made great progress in recent years. Adam has also been pursuing this principle: quality service, advanced equipment, innovative products, the perfect solution.
ADAMICU's products will be adjusted according to customer needs, to help customers design a series of suitable products.This progress including design, production, logistics services.
Well-konw enterprises cooperation
Our hardware accessories come from abroad, and after that, we organize production in our factory or our cooperation. Finally, we send the finished goods warehouse or the designated port or airport.
In order to enable the company to better development, we also work with other well-known equipment companies to develop strategic partnership.Below are some of the companies that have trusted the ADAM products and services.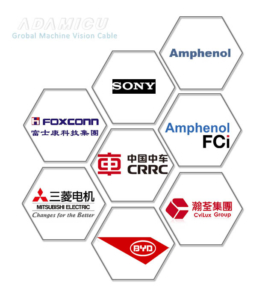 About Adamicu' prouducts
Now,ADAMICU is a leading China producer and international supplier of camera Link,IEEE 1394, USB, GigE cable for the industrial machine vision market.we have relatively complete molds, production equipments, and sophisticated testing equipments,and most of all we have stable component suppliers.
The company's permanent success has been based on our constant innovation, sustainable quality and enthusiastic collaborations for over 14 years now. Our goal is to offer reliable detection and measuring systems which will contribute to better performances for our customers operations.
The company's products are industrial camera cable, SCSI cable,EEE1394 FireWire cable, etc.For some customized products, we will work according to the specific product requirements, the development of the corresponding technical facilities. To ensure the quality of the products on time and on time.And maintain a harmonious relationship with customers as well as the design of new products for our customers.
We will provide you with the highest quality product with the Best service available at the lowest possible price.Do you need help finding the right cable for your application? Contact our advisors for their non-binding opinion.