ADAMICU is a leading China producer and international supplier of industrial robot cable, machine vision cable, servo motor cable, communication and control cable for Industrial field.we have relatively complete molds, production equipments, and sophisticated testing equipments,and most of all we have stable component suppliers.Building on the technical knowledge of our engineering staff, backed by our quality manufacturing expertise, our mission is to provide high quality, high performance, state-of-the-art product solutions.
Our mission is to build world famous brand!
Highest Quality Product with the Best Service.
Improving productivity and success.
Help solve business and technical challenges.
OUR EXCELLENT TEAM
ADAMICU has the outstanding R&D team which can help you develop a strong design that adheres to manufacturing capabilities and specifications for you.
We had designed 3RC for Panasonic.

Design industrial cable for vision sensor factory.

Your products can be customized for any of your specific requirements.
Now, Headquarters is in Dongguan, Guangdong,China, we have Thailand Office, JiangSu Office, Guangdong Heyuan Factory, Welcome to contact our team!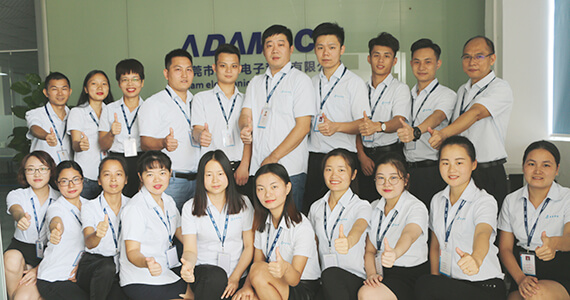 Need something unique?
Find out how we can meet your needs with  cables and assemblies custom designed for your application.
free sample will be send to you now!
FREE TO CONTACT US